Welcome to the USS Crazy Horse!
The past twenty years have been difficult. Voyager was presumed lost only to return triumphantly in 2378. The Dominion War, which ended in 2375, involved major powers in both the Alpha and Gamma Quadrant and was marked by massive military and civilian casualties though arguably none more so than the Cardassian Empire. When their star exploded, help from the Federation was not available to the Romulans because their attention was focused on Mars and the devastating losses there.

The year is 2394. In the Northern Expanse, the political dynamics have changed considerably. The Ferengi and Tzenkethi, seeing a chance to expand their own interests, have become more active and with Romulan attention focused almost exclusively inward, the area along its border has become a hot zone for pirate activity. The Federation has earmarked the Expanse for renewed colonization efforts.

The USS Crazy Horse, a Luna Class vessel, is well suited for this initiative. Commander Sidonie Ysayne is given command and ordered to take the Crazy Horse into the expanse. New worlds must be identified and the area rendered safe for colonial traffic. With talk of Tzenkethi incursions, an uptick in pirate raids, and a new faction intent on keeping colonists out, it's a big job.

Interested?

The tales we'll tell on board the USS Crazy Horse center on exploration and discovery with a campaign approach that invites players to do what they do best. Share their lives and adventures -- both personal and professional. So ... are you interested in life on the frontier? Want to explore strange new worlds and have a hand in their creation? Love subplots and characterization? Have a character that's just a bit different than the norm?

Then the USS Crazy Horse might just be the place for you. After successful completion of its shakedown cruise, the ship is docked at Starbase 614 awaiting the arrival of its first crew. Crew that sign before the start of the first mission are considered Plank Owners (an old naval tradition that means you are a member of the original crew).


---
Sim Rating
:
You must be 18 or older to join. This sim is rated: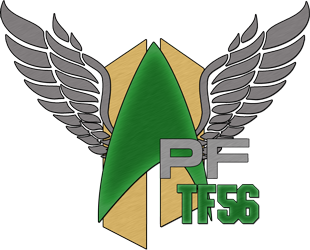 Latest News Items
Posted on 04/01/2020 @ 6:18pm by Commander Cian D'Anvers in Monthly Report
Hi, all!

As weird and worrisome as things have gotten in the world, here on the Crazy Horse, it is another day indeed as we complete our second full month of posting.

The Numbers
=========

Good news is that almost everyone made the minimum of 4 posts/month. Bryanna Voight, our Chief Medical Officer, had 3 but has been on LOA owing to the COVID-19 crisis.

Highest posters for the month (including NPCs)

Captain/Cian D'Anvers -- 18
First Officer/Alvar Othram -- 5
Chief of Security/Lae'Or Tahlin -- 11

FIRST PLACE: Chief Counselor/Toran Ilos -- 7
FIRST PLACE: Chief Intelligence Officer/Marcus Aurelius -- 7
Flight Control/Salynn Oram -- 6
Chief Engineer/Archer Logan -- 6
Asst. Chief Engineer/Romal Seshel -- 6
Chief Science Officer/Jasmine Langtree -- 4
Security/Neteri Blackfeather - 4
Chief Medical Officer/Bryanna Voight -- 3

Monthly Total:
75 posts
Average Mission Posts/User: 6.25

It was a good month for us -- thank you one and all. Raktajino and gummy bears are available in the Blue Parrot. And what did happen to the at parrot we were supposed to get? More on that soon hopefully.

Site Updates
========

As you know, we moved to the Pegasus Fleet server this past month. The sorting issue for the timeline mod has been corrected though another, more minor one, has cropped up. Hopefully that will be fixed before long. Waiting to hear on that and on a planned database upgrade.

Specifications
=========

Still no word on approval of our specifications and deck listing. We have, however, named our first shuttle -- Kicking Bear -- based on Crazy Horse's cousins.

Post of the Month
===========

Post of the month contenders this month:
+ Unexpected Assistance by Lieutenant JG Marcus Aurelius
+ New Staff by Lieutenant JG Toran Ilos (and his PNPC)

Honorable Mentions
- Checkmate in Twelve (because someone else suggested it)
- Hammer, Stone, and Anvil - Parts 1 and 2 - Lieutenant JG Lae'Or Tahlin

As you know, only one can go forward to be considered by the Fleet and that one is:

+ New Staff by Lieutenant JG Toran Ilos (and his PNPC)

Note: This was also the post that won his writer bragging rights because it included 'avocado'!

Player Issued Challenge
===============

Taral, who writes for Lieutenant JG Toran Ilos, has issued a posting challenge to the crew. Well, at least to those who have been watching the Picard series. Details are here:

https://www.uss-crazy-horse.com/index.php/wiki/view/page/56

Player of the Month
============
Player of the Month is Lieutenant JG Jasmine Langtree who has volunteered time and effort to help with the science aspect of the sim including doing OOC writeups on planets and systems, helping with mission planning, etc.

And Finally
=======

Note that the Mission Name was changed to: The Plomeek Soup Conundrum because I got inspired.

* Engineering is about to be brought over to the Blackwell via the Kicking Bear's transporter
* The Prisoners will be coming aboard the Crazy Horse soon though it could very well be that someone is going to meet them sooner than that

That's it for this month. Stay safe, everyone and remember, there's no social distancing in the Blue Parrot lounge. Virtual hugs all around!

Star Geek

aka

Commander Cian D'Anvers
Commanding Officer
USS Crazy Horse
Posted on 03/08/2020 @ 4:44pm by Commander Cian D'Anvers in Monthly Report
For those who didn't read the last one:

This is not a complete transcript. It's mostly the interesting bits that I ferreted out from the meeting. If you didn't already know, the fleet has a monthly meeting that everyone is welcome to attend. You have to join the Pegasus Fleet Discord Server (which is busy so be warned) and then at the right date and time, enter #meeting.

On to the tidbits.

Pegasus Fleet
Meeting Notes
===================

Starbase 332 celebrates its tenth anniversary this month.

Digital Copyright Policy Passed
================================

https://wiki.pegasusfleet.net/index.php/Pegasus_Fleet_Policies#Digital_Copyright_Policy

For those who don't want to go read it, this policy defines some guidelines for avoiding DMCA complaints against your sims or the Fleet. DMCA, or Digital Millennium Copyright Act, is a U.S. Copyright law that addresses the rights and obligations of owners of copyright material who believe that their rights under U.S. copyright law have been infringed, particularly, but not limited to, on the internet. This law is enforced internationally under the WIPO treating, Copyright Treaty, and Performances and Phonograms Treaty.

Really what this all means is that any content that is used on your sim that was not created by you needs to be properly credited. If a DMCA complaint is received against a sim, all that needs to be done to avoid issues is to comply with the complaint, either by removing the offending content or adding proper credits, depending on the requirements of the complaint. Because this is a serious legal matter, COs that do not comply with DMCA complaints face the loss of command.

CO's NOTE: It means less graphics for our site. The banner on the Main Page, however, was created for the Crazy Horse so that can stay! I'll go through and remove things in the next day or two. Primarily, this refers to ship images, deck layouts, etc. - images that were drawn/created. Generally speaking, this does not involve character images unless you get them, in uniform, from a site such as Sci-Fi Avatars (if you do, you'll need to check regarding their policy for use and then contact me).

CO's NOTE: Our own Chief Counselor is going to create a bridge deck layout for us so we'll have one at least that we can use.

Resources
=========

Along with specifications, Resources will be working on classifying species for playability and a reconciliation of community canon with the new Trek canon being released.

In case you were wondering, Star Trek Online is not considered canon. In the case of species names, Memory Alpha is considered the fleet's canon source.

CO's NOTE: As the vote was in favor of ST:ACTD, I am pursuing the Deviation Request with Resources. No final word as yet but I remain ever hopeful.

Fleet Operations
================

Highest post count this month goes to the USS Poseidon with 85 posts!
Runner up, USS Ulysses with 67 posts!

Honorable mentions to USS Tomcat, USS Pennsylvania, and USS Crazy Horse for 50+ posts in a month! Fantastic work to all!
.
The sim with the best PPP, USS Ulysses with 8.38 PPP!
Runner up USS Pennsylvania with 6.38 PPP!

CO's NOTE: And ... not mentioned here ... USS Crazy Horse as top poster for Task Force 37 with 54 posts and a post/player count of 4.91. Great work one and all!

Task Force Updates
===================

Task Force 37: February was a short month for us, but the last two months have been big ones for TF37. This year we have added two Simms to the TF. The Crazy Horse and the Omaha. The Lantau has had a CO change as well. With all of these changes we are evolving some storylines and have some fun things lined up for the future. I would like to congratulate the CO and crew of the Crazy Horse. You have ended the Pennsylvania's 6-month streak as the highest post count in TF37.

CO's Note: Officially, we belong to Task Force 37 (joined in late February 2020). Unofficially, we belong to Task Force 56 since we are currently posting in the North Expanse (alpha/beta quadrants). We have no plans at the current time to move into the Delta Quadrant where Task Force 37 is based. If that's of interest to you as a crew, bring it up in the lounge and we can discuss the possibilities.

Pegasus Fleet Academy
=====================

As is an ongoing theme, we are still actively working on rewriting the coursework for the Academy, working our way through the Commanding Officers training first, which we will then reduce for the Commanding Officers Refresher. Hoping that we will have Part 2 completed shortly.
.
We're still taking suggestions for specialised department specific courses that we can run as well, so if you have suggestions for specialised courses that you'd like to see the Academy run, please, again, either message me here on Discord or mail me at academy@pegasusfleet.net

We are also working on creating some simple user guides for things like Nova and IFS, though these would be more geared at command level rather than player level, if there are any players who would like assistance with using Nova or logging into their IFS to make sure your details are up to date, please let us know!

CO's NOTE: Both Lt. Cmdr. Othram and Lieutenant JG Lae'Or are currently taking the XO's course through the Academy.If there is a specialized course you'd like to see, please feel free to contact the academy at the above email address ... or talk to me and I'll relay the request for you.

Project Khitomer
================

For those who aren't familiar, Project Khitomer is an online roleplaying conference held on Discord. This year's event was held on February 22. I know many of you were able to attend the event. I'm always excited when I see a strong Pegasus Fleet presence. For those of you who were not able to attend, the 2020 transcripts are now available, and can be found on the Khitomer site here: https://www.project-khitomer.com/2020-schedule-and-transcripts/

CO's Note: If there is interest in attending this, I'll be happy to let everyone know when the next event is scheduled.

General Business
================
* Along with Project Khitomer, Pegasus Fleet also participates in Fall Fest (put on by OngoingWorlds)
* Kai suggested setting a more official Nova/website help system along with a list of people that COs with problems can contact for help. There's talk of doing that through the Academy.

CO's Note: Kai, along with Aio, are also the ones that are helping with the problems on the Crazy Horse. I should point out that Kai offered!

And ... that's about it for this month.

Posted on 02/29/2020 @ 4:17pm by Commander Cian D'Anvers in Monthly Report
Hi, all!

Well, I've just completed the monthly report to Pegasus Fleet. This was our first full month together as a ship and honesty, I think it went really well.

The Numbers
===========

First up, the Numbers. Remember, I said that the one with the most posts for the mission (starting with the new one) gets to choose our R&R destination? Here's where you'll see how well you're doing. I exclude myself from this, by the way, though I am always available to provide suggestions if they're needed. Course, the count resets tomorrow when the new mission starts. Something to keep in mind.

Ysayne/NPCs - 11
FIRST PLACE: Lae'Or - 8
SECOND PLACE: Oram - 5
SECOND PLACE: Logan - 5
SECOND PLACE: Langtree - 5
THIRD PLACE: Voight - 4
THIRD PLACE: Othran - 4
THIRD PLACE: Ilos - 4
Aurelius - 1
Blackfeather - 2
Seshel/NPCs - 3

Monthly Total:

Total Posts: 52
Average Mission Posts/User: 4.64

All in all, a good first month and I love that so many tied for place!

New Mission
===========
Tomorrow starts our new mission, "Hear Your Bones Crack". Well, really our first actual mission. Now, I know, everyone has their own ideas about how these things should work but here's what I think. First, I'm going to provide notes for the various departments (things that you could discover or things that you would know, possible suggestions for things you can explore, side-mission ideas, etc.). This will all be available in Discord, in channels that I've set up for each department and I'll update them now and again, so remember to check back. If you don't have the right permissions, let me know and I'll fix it.

As was done regularly on the shows, senior staff gets briefed on what's going on. It's up to the department heads to brief your own people.

Posting during the mission will probably end up as a combination of solo and joint posts. I will write for one of the prisoners, Sifir, and he's available for JPs ... (insert evil laugh here) ... well, you'll see.

Site Updates
============
Thanks to Aio the Magnificent, the mods are done and we now have:
- Ship Status on the Main Page that includes a link to the current mission.
- Mission Day and Time fields added to the post form to help keep things organized. Note that Time is a 24-hour clock and includes a drop-down list to select from.
- Read Story button added to the Mission page - so that you can read mission posts in e-book format
- Timeline has been added to the wiki (because it gets too long to keep in Mission Notes). I'll try to keep that organized by mission so that you can always get a sense of what happened when.

Post of the Month
=================
One of the things I do in the monthly report is submit a post for consideration for Pegasus Fleet Post of the Month. There were a lot of good posts. There were a lot of good posts -- really loved the idea of everyone doing phaser qualifications as part of the on-boarding process as well as medical. Jasmine's idea of a mixer was also great and gave me an idea that I want to put forward. More on that in a bit.

And as was true in Highlander, in the end, there can be only one (up for consideration, I mean). The command staff got it down to three awesome contenders:

- All Aboard! Toot-Toot!
- Running the Tubes
- Dangling Participles

Here on the Crazy Horse, all three are winners so congratulations to one and all! The post that was sent to the Fleet for consideration is ... All Aboard! Toot-Toot! Posts are voted upon and then a winner is announced on the Pegasus Fleet server. Once it is, I'll make an announcement here as well.

Promotion
=========

Congratulations go to Lt. JG Lae'Or Tahlin who, along with Chief of Security, is now our Second Officer! While the actual promotion won't happen in-character for awhile yet, Lieutenant Lae'Or's writer has already been of great help behind the scenes. It's a well deserved promotion. Welcome to the Command team, Tahlin.

And Finally ...
===============

We're still looking for a Chief of Operations. I've put out advertisements everywhere I can think of without response. In the mean time, our Chief Science Officer, Jasmine Langtree, has offered to write a PNPC in the department.

That's it for this report. Hope everyone is having a great weekend.

Star Geek
AKA Cmdr. Sidonie Ysayne
Commanding Officer
USS Crazy Horse
Posted on 02/16/2020 @ 5:50pm by Commander Cian D'Anvers in Monthly Report
Interesting Tidbits from the Pegasus Fleet Monthly Meeting

This is not a complete transcript. It's mostly the interesting bits that I ferreted out from the meeting. If you didn't already know, the fleet has a monthly meeting that everyone is welcome to attend. You have to join the Pegasus Fleet Discord Server (which is busy so be warned) and then at the right date and time, enter #meeting.

On to the tidbits.


---
Project Khitomer on 22 February 2020 at 3:00 PM GMT/10:00 AM EST.
Discord: https://discord.gg/m4XF6Pp
Website: https://www.project-khitomer.com/
For those who aren't familiar with Project Khitomer, the event was started last year as a way for members of the simming community to put aside any differences in Fleet affiliation and come together for a day of fun and discussion. Last year we had a really strong turnout from Pegasus Fleet, and I hope we can do so again this year.
Pegasus Fleet members will be leading panels on Character Creation and Clicking in a Clique at 8:00pm GMT and 10:00 pm GMT respectively, and one at 5:00 pm GMT on Writing Mysteries and Twists.
---
Fleet Operations Report
Posting numbers stayed strong in the month of January. Almost every Task Force beat their six month average, and the fleet as a whole averaged 2.58 Posts per Player. Good work to everyone and to the effort you've shown! I am quite proud of the work everyone is putting into their sims and the activity that we have going on throughout the Fleet.
Highest post count and best PPP, USS Astraea with 91 posts and 7.58 PPP! Runner up, USS Dreadnought with 47 posts! An honorable mention to USS Oracle for being only two posts behind at 45!
Runner ups for best post per player count -- USS Oracle and USS Pennsylvania at who both hit 4.50 PPP!
CO's NOTE: We started toward the end of January. So for the ten days we were operational, we did 10 posts with an average post per player of 1.25. This comes straight from the Nova software.
---
Resources Report
Department staff have been keeping a close eye on the new Picard series, not only for our own entertainment, but also to find out what new resources and world-building information is being added to the Trek canon. We will be embarking on a "reconciliation" project in the next few months to help folks understand how this new content fits into our storytelling in Pegasus Fleet. (Note: This may mean some retconning of our sim and community canons as we adapt to what's being revealed with the new series.)
As always, we are here to help you. If you have any questions, thoughts, ideas, or concerns you would like addressed, contact Rear Admiral Virtam directly at pfdr@pegasusfleet.net or on Discord (@RADM D'era Virtam (Resources)).
CO's NOTE: Canon is murky business and often a hot-button topic. What do I mean by murky? Define canon - is the tv series? movies? books? animated series? What about Abrams versus Roddenbery? And then, there's canon for a ship and canon set at the task force level. It presents challenges.
Choosing to ignore canon makes posting between sims impossible (course, I have no idea how that would work so ... its probably unlikely at this point in any case). In the case of Picard, the main story is in 2399 (five years in our future) but the backstory involves events from 2385 -- and that would be part of our history. I'll keep watch on this going forward.
CO's SECOND NOTE: And no, Jasmine, no word yet on our specifications.
---
Academy
First of all, huge congratulations to @SteveClaypole|AtreusCO from the USS Atreus, @Kai|UlyssesCO from the USS Ulysses and @Star Geek |Crazy Horse CO from the USS Crazy Horse who all graduated from the Academy in January. I can't wait to see where your adventures take you within the Fleet.
The Commanding Officers' course in undergoing a rewrite - the first module is done and being tested. Amethyst is at work on the second module.
If you have suggestions for specialised courses that you'd like to see the Academy run, please, again, either message me here on Discord or mail me at academy@pegasusfleet.net
They are looking at creating department-specific courses that would be voluntary for anyone interested in taking one.
---
A Word From the Furry Overlord
Ladies and Gentlemen, aliens, species and other assorted walking lunchables.
I have one bit of news that I would like to add, scary I know since usually I am at work or these meetings are way too early in down under land.
There is one amongst us that, following talks with the rest of the Admiralty has been selected for something...dun dun dunnnnn
This person has been part of Pegasus Fleet for a number of years in a variety of capacities, roles, duties and requirements. Instrumental in the development of areas within the fleet, leadership of departments but in addition to all of this has found the time to run a simm non-stop through it all. Being a CO is a challenge, more so for some than others. Being a leader is a challenge in and of itself. We are all people with lives, diving into our imagination to create something for others to enjoy.
Much to his no doubt surprise, since all of this was kept secret from him since it wouldn't be a surprise otherwise, to Alex our PFCO.
Alex has been a member of the fleet for many, many years rising up the ranks and titles to ultimately join the Admiralty in 2011. He rose to the position of PFCO in 2014 and has continued to run 332. Being a figurehead of a collection of like-minded individuals, a fleet, a community is difficult. It is difficult because every action is looked upon, every choice subject to scrutiny. It is impossible to please all and Alex has tried his level best to do what he can, as he can with his free time while making sure that he has time to dedicate to his simms playerbase.
Sometimes its difficult to log on to a torrent of private messages, a score of emails, never knowing what disaster or issue might be waiting, or if graced by luck, everything is a-ok.
So, because I am the Fearless, all mighty, claw armed Furry Overlord and grace you all with a limited amount of time before I claw you or you buy me off with 'gifts' or I eat you. I have the following to say.
As Pegasus Fleet Executive Officer, I hereby promote Admiral Quinn with the support of the Admiralty to the rank of Fleet Admiral. Effective...right about now.
Through everything Alex has remained a constant in the fleet, a voice, a driving force and a leader in every respect in trying to make the fleet better for everyone. Alex, without you helping the community in the ways that you do then Pegasus Fleet would not be the fleet that it is today. No you don't get a new office, yes you get extra work and no I'm not paying you for it.
Congratulations, Fleet Admiral Quinn.
---
I'd like to wish someone a very Happy Birthday Today
SOmeone who has worked very hard and tirelessly despite also being a mother and a person of good repute to the Fleet. I have had a wonderful time in association with @Rear Admiral Niamh Devane and despite any prior engagements or disagreements, we have always come out on top for the better as friends. Thank you, Rear Admiral, and I hope i haven't embarrassed or broken any trust by wishing this publically, but Happy Birthday!
CO's NOTE: As I'm copy/pasting this stuff from a busy chat window, the "I" is a whole lot of people. The important part is the information. If you want to know who said what, I believe the entirety of the meeting remains available throughout the month.
---
If anyone has any questions or comments between now and the next meeting, don't hesitate to send them my way. I can always be contacted at pfco@pegasusfleet.net as well as here on Discord. And if I am not available, I encourage you to reach out to Admiral S'iraa as well. We can both be reached at pfcommand@pegasusfleet.net as well as @PFCommand on Discord.
.
I'll leave you all with this: "To err is human, and to blame it on a computer is even more so." Thank you.
---
That's it for this month.
Upcoming is the Monthly Report which should appear in your In-Boxes around the 1st of March.
Star Geek
aka
Cmdr. Sidonie Ysayne
Commanding Officer
USS Crazy Horse
Posted on 01/30/2020 @ 12:35pm by Commander Cian D'Anvers in Monthly Report
Just finished the monthly report to the fleet, so numbers (alien things) are swimming about in my mind. Thought I'd share them with you in the hope that it will also purge them from my mind!

Finished (and passed) the COAL course on 18 January 2020
Greenlit to begin recruiting on 22 January 2020
Received the magic number of 6 crew members on 29 January 2020
(with one waiting, Navy Vet)
Total number of posts for January: 9

There! That's done.

Housekeeping
=========
Please remember to fill out the fields in your posts -- title, location, and the all important timeline. The format for timeline is:

Stardate YYYYMM.DD - HHMM
(with HHMM being a twenty-four hour clock)

At the end of the post, please remember to include the signature block for everyone who contributed to the post. If you aren't sure what that is, here's mine as an example:

Cmdr. Sidonie Ysayne
Commanding Officer
USS Crazy Horse

Current Events
==========

* At the moment, everyone is reporting in and getting settled on the ship. As part of the on-boarding process, you will need to be seen by medical. You will also need to be sure that your weapon certification is up to date (that would be security) and if you are rated as a pilot, that you are uptodate there too. Now we don't have a flight control officer at present so you can do with that as you will -- even if it's just a passing note in a post.

* Once everyone is aboard and settled in, the mission will start.

Devious Mindset
==========

I used to be a DM in table top games where I created campaigns, dropped breadcrumbs, and did what I could to keep things interesting. And believe me, when you sit around a table with your players, you know when they get bored. All of that means a couple of things:

1. I rely on all of you so talk to me. I'm wide open to possibilities that i can thread into a mission. For example, your bio has your best friend serving time for a crime he didn't commit. Since our first mission will take us to a penal colony, why not add that in? Reach out and we'll talk it through. Just remember golden rule #1. Surprise everyone else but NOT the Captain. My job is to juggle all the story possibilities so that we're all on the same page and things make sense.

2. Golden Rule #2: In-Character Actions Have In-Character Consequences. If you decide to have a fist fight with another player in the Mess Hall, guaranteed security will show up, you'll face the XO, and if it's warranted, a record will be made (and to make it fun for everyone, flesh out the characters, that will show up on the awards page on the site). The reverse is also true. Do something amazing and you'll be rewarded, may even get promoted.

3. I drop breadcrumbs and leave threads dangling deliberately. Those will get picked up in later missions. However, I'm completely human and I do make mistakes. So, if I miss a thread I left dangling, please let me know. I like that what we do has an impact on the world around us, consequences if you will. If you want to add in your own threads, reach out. I'm always willing to talk plot and subplot ideas.

4. I find ideas everywhere including your bios. So, the more information you have in your personal and professional history, the more possibilities there are for me to work with. I would just ask that if you want to add things, let me or the XO know first.

Two Missions
========

There will always be two missions open. Always.

And So It Begins: This is the one where we write about coming on board and settling in. This mission is finite - it will end and another will take its place.

Sum of Our Experiences: This one stays open forever. It comes from an idea I found on the Pegasus Wiki. It's a place for you to stretch your creative wings. Tell us stories of your life before Starfleet. Share the highs and lows of your life. Help us to see your character as more than the position he or she holds.

Finally
====

I'm really glad you are all here. Delighted that we will be writing the ship's adventures together and look forward to getting to know each and every one of you.

Star Geek
aka

Cmdr. Sidonie Ysayne
Commanding Officer
USS Crazy Horse
Latest Mission Posts
Mission: Sum of our Experiences
Posted on 03/31/2020 @ 8:40pm by Lieutenant JG Lae'Or Tahlin
Stardate 53418.2
Old Earth Calendar: June 2, 2376



The nightmare came again, swift fury on wings of sleep. Tahlin was running through the late-night streets of Bajor's capital, running from the man who had shown her so much love and affection over the years... Running because he had rejected her…
Mission: Sum of our Experiences
Posted on 03/30/2020 @ 3:38pm by Lieutenant JG Lae'Or Tahlin
Stardate 52646.57
Old Earth Calendar: August 24, 2375, nearing midnight



Tahlin was bone-weary. She'd never had much appetite for politics, though if pressed, she could argue with the best. It was a necessary skill, given her father's position as a vedek, and at the moment, one representing interests in the…
Mission: Sum of our Experiences
Posted on 03/26/2020 @ 12:12am by Commander Cian D'Anvers
Well into Gamma Shift, the common area of their quad was deserted save for the pair sitting hunched over an antiquated two-dimensional chess board. It had become their pattern, chess and conversation before retiring for the night, a way for Cian, who had trouble calming his mind, to begin the…
Mission: #2: The Plomeek Soup Conundrum
Posted on 03/25/2020 @ 5:50pm by Lieutenant JG Lae'Or Tahlin & Commander Cian D'Anvers & Lieutenant Commander Alvar Othran & Lieutenant JG Salynn Oram & Lieutenant JG Archer Logan V & Lieutenant JG Jasmine Langtree & Lieutenant JG Marcus Giaus Aurilieus & Ensign Neteri Blackfeather & Ensign Romal Seshel
The viewscreen that dominated the forward section of the Luna-class ship's bridge showed the dilated effect of stars passing at warp, giving an almost hypnotic effect for the past 3 hours or so of warp travel. With a deft flick of the wrist, Lieutenant Salynn Oram urged the Crazy Horse…
Mission: #2: The Plomeek Soup Conundrum
Posted on 03/24/2020 @ 9:14pm by Leonie D'Anvers M.D.
Every year, her sister won awards for scholastic achievement and every year, Amelie D'Anvers did not. She would sit in the audience with a practiced if insincere smile on her face and watch her sister, dressed in one fashion fiasco after another, receive the attention she craved. In a family…
Latest Personal Logs
Posted on 02/15/2020 @ 10:37pm by Lieutenant JG Salynn Oram
It didn't look like a department head's office at the moment. In fact, it didn't look like an office at all. That's because there was a greasy, half fused thruster valve from a Type 10 shuttlecraft strewn across the desk. The woman behind the desk looked like a mechanic, with…